Solutions > Restaurants
Multi browser compatibility (Internet Explorer, Firefox, Safari, Opera, etc)
Font formatting: type, size, color, style, bold, italic, etc
Text formatting: alignment, indentation, bullets list, etc
Cut, Paste, and Paste as Plain Text, Undo and Redo
Paste from Word cleanup with auto detection
Link and anchors support
Image insertion, with upload and server browsing support
Table creation and editing (add, delete rows, etc)
Table cells editing (size, colors, etc)
Spell Checker
Image and file links upload
Food and Dining Solution Packages:
New Wave Industries has created a full solution package to support restaurants, bars and catering venues.
Our 10+ years of experience working with the restaurant industry has given us a true understanding of the daily operations. We respect the long hours the you work and the critical impact the website can play in a successful web or mobile campaign.

The restaurant industry needs to have flexible solutions for their business to keep their website content fresh. Changes to the website will need to take minutes and not days. The web changes need to be quick and easy for management so customers can be served and tables can be turned over.  The website hosting needs to be reliable and up 24/7 as the busiest times are when the rest of us are leaving our "9-5". 

Our content management software is easy to use with cut and paste options straight from Microsoft Word and simple to upload documents and images.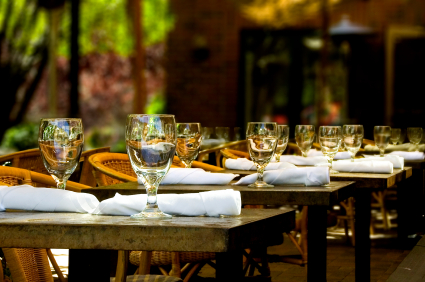 We have experience integrating Open Table for online reservations, connecting with Micros for gift cards or rewards programs sales. Stay connected and gain new customers with Social Media. We can get your Facebook, MySpace, Twitter and Youtube accounts up and keep them updated. Our email and text messaging marketing solutions can keep you connected to your customers as often as you want. Reach out to customers and promote that event, weekly special or online dining card sales!

Our NWI Studios Audio and Video department can film onsite videos for restaurant tours, interview owners, or promote cooking segments on your site. Our in-house 26 foot wide green screen video studio can shoot videos and make it look like the restaurant spokesmen is walking across the site welcoming visitors. Or better yet…spend someone else's money and use those co-op dollars from beer, wine and spirit distributers to create virtual videos introducing drink specials or those one of kind mixed drinks you serve!


Online Gift Card Sales
Reservations
News
Staff Listings
Calendar of Events
Daily Specials
Menus
Banquets
Testimonials
Job Postings
Band Reviews
Surveys

We have the full package and can consult with you to put the perfect plan together!
Call Today 860.953.9283!